First off: a huge, huge thank you to all the beta testers! I've received a lot of thoughtful feedback and ideas, got bug reports, and got to see all your amazing MOCs!
So far, all communication has been through email, Flickr mail, Instagram or Twitter messages. I'm happy to keep all lines of communication open, but I think it will be more open and transparent to use this blog to gather feedback, discuss upcoming features, and announce new features as they're realeased. That said, I'm grateful for all feedback no matter what medium is used (so keep it coming using whatever platform is best for you!). I love hearing from you all and I hope to continue improving mocbuilder based on your input.
For anyone who signed up, but did not post any MOCs, I'd love to hear from you, too! Even if you think I don't want to hear it! Even negative feedback can be very helpful, so please don't be shy!
New features
🎉 Tags

Tags were released about 3 weeks ago (on the 24th of July to be exact) so this is still a new-ish feature. MOCs can have up to 12 tags each.
🎉 Collections

Collections were just released! You can add a MOC to any number of collections. So you can organize MOCs into project-specific collections, theme-based collections, or anything that makes sense to you. For example, you might have a few pics of a microscale castle called "Queen G's Castle". So you might add it to a project-specific "Queen G's Castle" collection, a "Microscale" theme collection and a "Castle" theme collection.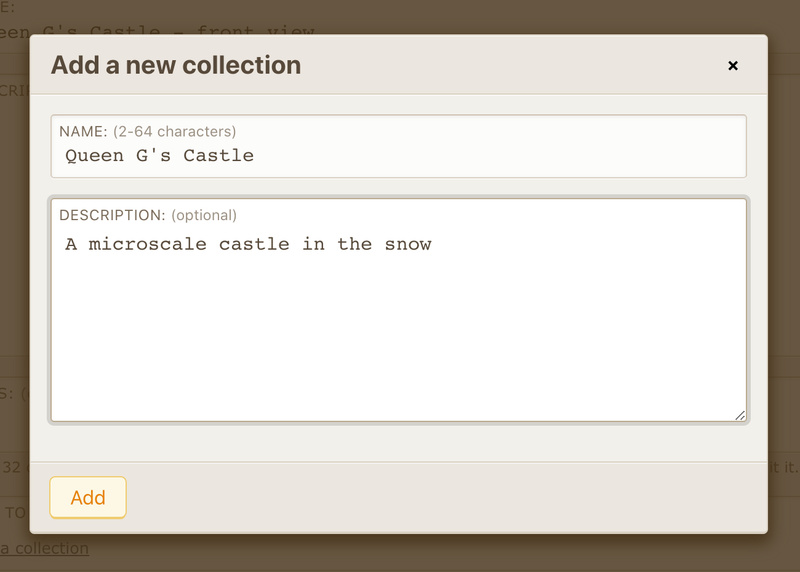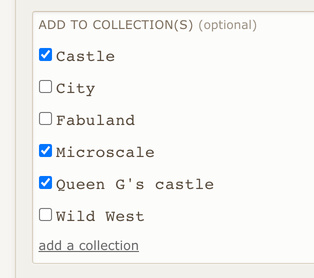 I'm now working on allowing existing MOCs to be edited. So if you'd like to retroactively add tags or collections to your MOCs, you'll be able to do so.
I'll also be working on an interface which allows you to seamlessly navigate through all MOCs in a collection since this is a bit inconvenient at the moment.
If you have any questions, suggestions, or feedback about tags or collections or anything else, please feel free to comment below or email me. I look forward to hearing from you!